I hope you enjoyed your Thanksgiving holiday and now that December is here, you're feeling ready for the rest of your holiday season.
Many people were making plans for Black Friday shopping soon after digesting their Thanksgiving meal. If you didn't have the enthusiasm or interest in all the Black Friday hype, the biggest shopping day of the year, but wish you could get the deals without the drama, I have good news for you…
There are deep discount savings throughout the year that will make you feel like your purchases were a steal! And you won't have to drive around jammed parking lots, stand in long lines and fight through crowds to score great deals like the hysteria of Black Friday.
There's a monthly ebb and flow to clearance sales based on timing, demand and space planning. Here are the best times of the year to shop and save for the items you want, and let's kickoff the sales with this month…
December: Winter Clothes
December 26th
The day after Christmas is the best day of the after-Christmas sales week to buy clothes. You'll find lots of winter styles at jaw-dropping deals.
January: Winter Coats
Retailers are making room for spring inventory to arrive and need to clear out anything related to cold weather.
February: Jewelry, fragrance, sleepwear and bras
After the big rush of Valentine's Day sales, you can get these classically feminine finds at the lowest prices of the year, especially before prices go back up as Mother's Day draws near.
March: Winter Sports Gear
As temps begin to rise, demand starts to cool and retailers clear out inventory for lighter spring jackets.
April: Rain Gear
As April showers taper, retailers slash prices to quickly clear out rain gear.
May: Mother's Day Promotional Items
You won't see many sales before Mother's Day and Memorial Day as stores enjoy brisk gift-giving sales spikes. However, after these holidays, you can enjoy the sales on all the items that were promoted for Mother's Day!
June: It's a sleeper month for sales.
July: Swimwear
Just as temperatures start soaring, this is the end of the selling season for swimwear. You'll find prices slashed to clear inventory as early fall begins to ship.
August: Summer Clothing
As retailers prepare for all the fall shipments, they need to clear out summer inventory with hefty markdowns on summer styles.
September: It's another sleeper month for big sales. There are pre-fall sales but the savings are not as deep as other times of the year. However, the selection is at its peak!
October: Jeans
After back to school sales that end in September, denim is not expected to be a big part of fashion trends and you'll enjoy big savings on a category that you'll wear year round!
November: Winter Clothes
Black Friday, Small Business Saturday and Cyber Monday, all consecutively happening the day after Thanksgiving.
At discount and big-box stores, you'll usually find weekly markdowns on Tuesdays and Wednesdays for women's clothing.
According to research by ShopItToMe.com, you can enjoy from 40 to 55% savings shopping online for these items on these days of the week:
Mondays: Women's dress pants and sunglasses
Wednesdays: Shoes
Thursdays: Handbags
Fridays: Jewelry, belts and scarves
Saturdays: Lingerie, jackets and outerwear
Sundays: Swimsuits
Happy Shopping!
If you're ready to enjoy the feeling of knowing exactly what to wear, know what looks good on you, easily get ready and feel proud of how you look every time you leave the house…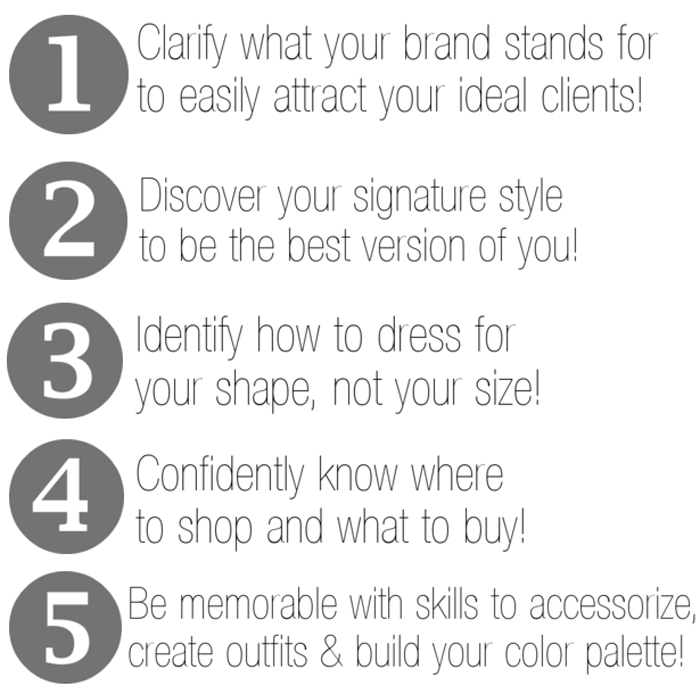 Get the after you're after with my 5-step Beautiful Brand Style Process that will easily take you from where you are to where you want to be.
Here is what a few of my clients have experienced after their brand style transformation…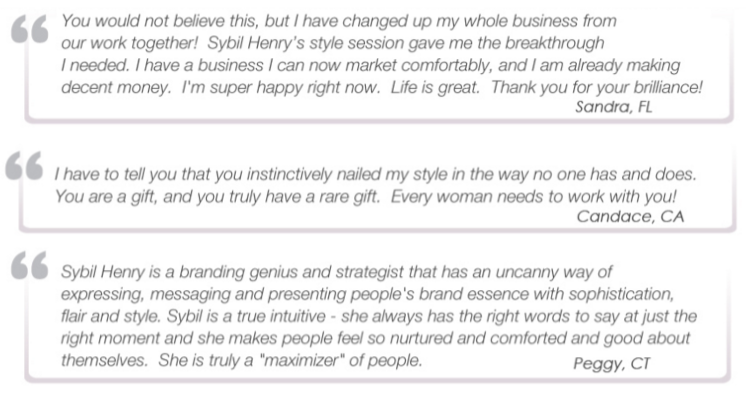 Ready to explore how you can create Your Beautiful Brand Style?
Click HERE to schedule a complimentary Beautiful Brand Style Strategy call with Sybil!