You're empowered and confident in your professional life;
it's time to feel the same way when you get dressed in the morning.
We live in a world where women are often judged by how they look more so than their accomplishments. Most images of women in the media show an ideal that's impossible to live up to.
While you are confident in your abilities and expertise, you may not feel this way about your changing body and evolving style. You may feel a divide between your younger self and who you are today.
This is where my passion and expertise combine to create your transformation. By working together, we can accomplish your desire to….
• Know how to dress right for the occasion, whether it's for brand image photos, speaking on stage, attending a conference or casually working from home.
• Confidently choose the right pieces that reflect your personality and flatter your shape.
• Know exactly how to create the looks you love.
• Your outer appearance will represent the level of your career success.
• Your clothes to be comfortable and present you at your best, both personally and professionally.
• Feel good about yourself on the inside and have it reflected on the outside.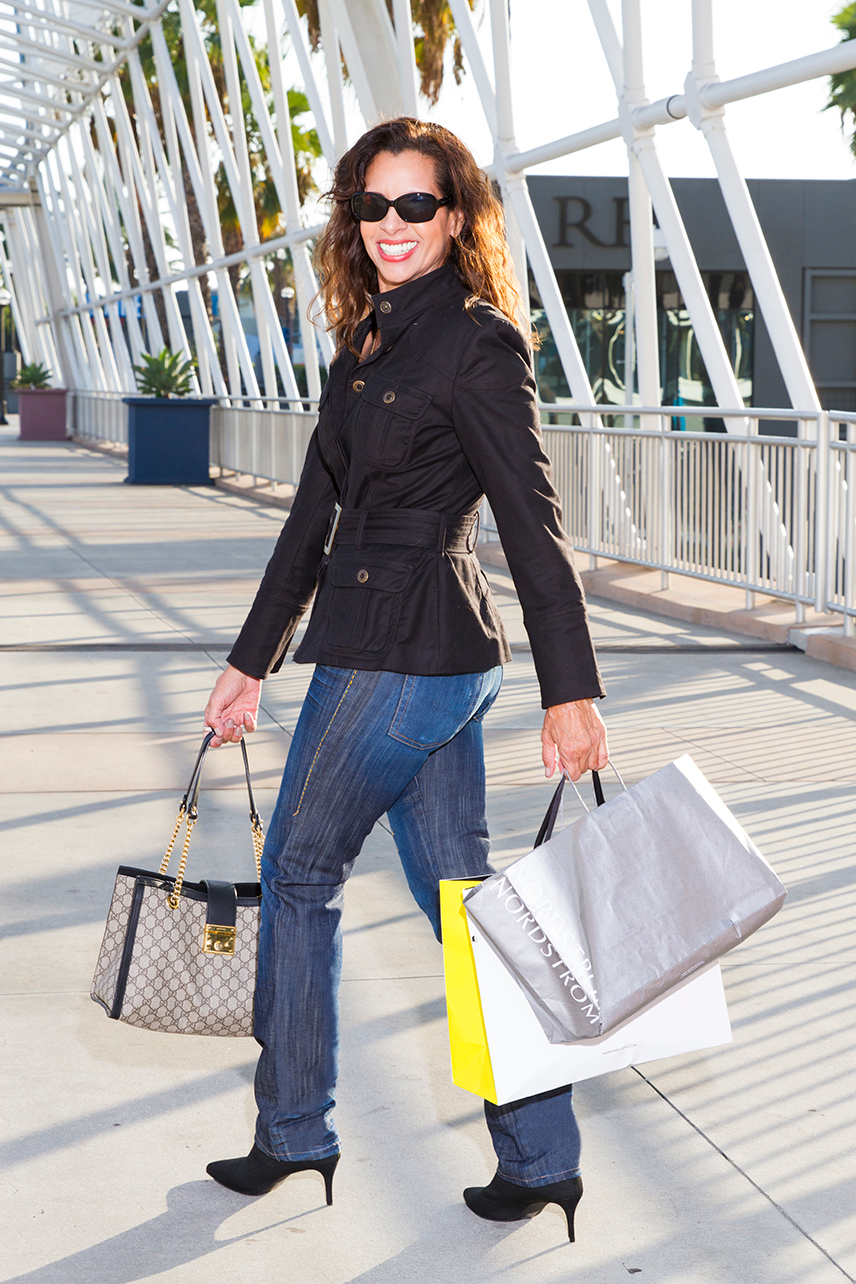 My Journey
I know how you feel. Through the years, I've experienced drastic body changes that left me feeling frustrated about how I looked and felt in my body.
In my early 40s, I developed a hormonal imbalance that caused me to gain weight. I went from a size six to a sixteen in six months. In my new, larger body, I felt embarrassed and self-conscious. I began hiding in my clothes. I lost my sense of style, and I hid my body. I knew that my style no longer fit who I was, and I didn't know what worked. My confidence plummeted while peri-menopause loomed.
What I failed to understand is that no matter how old you are or what your body looks like, you can feel confident in your own skin. You can dress in a way that feels comfortable, feminine, powerful and authentic.
How My Style EVOLVED
With European training in couture design and garment construction techniques followed by a corporate career in fashion, I knew that fit and shape played a huge part in how a woman looks and feels in her clothes. I knew this was the key to feeling confident about one's body and style. So I became my own best client.
I took all the best practices I used with clients to help them achieve their best results and created a customized program for myself. I rediscovered my authentic style, identified my shape and learned how to dress for my body type.
It was life-changing. My confidence soared. I no longer wanted to hide in my clothes and I finally started enjoying shopping again. I felt beautiful, despite being at my heaviest weight.
My personal experience inspired me to share this transformation with other women who wanted to look and feel their best. My painful, but ultimately triumphant journey became my inspiration for the styling work I do today. It taught me invaluable lessons about self-acceptance, positive body image and dressing for your shape.
Through my unique method of Blind Styling, I can help you overcome your personal challenges so you can look and feel like the best version yourself. No matter what's going on with your style or how you feel about your body, it can all change and be better than ever. You can transform how you look and feel in clothes and learn how to dress like the powerful, confident leader you are. I've been there, I figured it out and I'm here to help you do it too. And once you learn how to do this, choosing your outfits becomes easy and fun — I promise.