Create a Signature Style that captures the powerful, confident business leader you are!
Working with Sybil has transformed me on so many levels. She has transformed who I am as a woman, how I love, care for, and dress my body, and how I've stepped into full ownership of the MogulPreneur I really am. Sybil is so much more than a stylist. I can now step into the opportunities I'm destined to create, attract, and manifest.
Alice, NY
I just had an amazing, rock star, brand style session with Sybil who just blew me away with how she put together my brand style based on my personality and business. I'm so excited to throw out my old wardrobe and rock my right brain rebel brand style!
Kim, CA
You would not believe this, but I have changed up my whole business from our work together! Sybil's style session gave me the breakthrough I needed. I have a business I can now market comfortably, and I am already making decent money. I'm super happy right now – life is great!
Sandra, FL
Working with Sybil transformed me both personally and professionally. Sybil took me from feeling frumpy, thrown together and super casual to feeling polished, pulled-together and confident. I started to look and feel so much different in my life and business —for the first time ever, I felt like a powerful leader… and I began to be seen that way too! In fact, I closed some of my biggest business deals ever the year I worked with Sybil.
I now use my customized brand style guide every time I get dressed and go shopping. Knowing how to dress and shop for my signature style and body type has has made things so much clearer, easier and more enjoyable. Shopping is no longer a headache —it's fun! I can't believe this was all done in a Blind Style session. For the first time ever, my style feels like a unique expression of who I am, and I feel great in my clothes. Thank you Sybil!
Michelle
When I went to my retreat last month, my coach came up to me at the first break, told me she didn't even recognize me, gave me huge hug, and said, "Now YOU, I would hire!" I think your style guide suggestions are even MORE appropriate for my business. She kept commenting over the next few days about how she didn't recognize me!
Bev, NV
Sybil is a branding genius and strategist that has an uncanny way of expressing, messaging, and presenting people's brand essence with sophistication, flair, and style. Sybil is a true intuitive – she always has the right words to say at just the right moment and she makes people feel so nurtured and comforted and good about themselves. She is truly a "maximizer" of people.
Peggy, CT
I can't believe what Sybil did for my photo shoot. I am in total awe! You are amazing. Thank you for your calming, steady energy and brilliance. Sybil is a dream/fantasy come true with all of the deep dive brand exploration and reconstruction!
Shawn, MI
Thank you for everything you did to help me get ready for my photo shoot — everything was SO COMFORTABLE!!! I felt relaxed, I didn't worry once about what I was wearing, it was perfection from head to toe! It was nice to just be in the moment and not worried. Not self-conscious. Not going to my default hiding color wearing all black. I LOVE my new photos!
Angela
I feel so grateful to you that you helped me to step into my feminine elegant style that was inside me for a long time but I didn't dare to bring out. 
The journey that we did together to get there was so transforming, heart-warming and lots of fun too, so that I can truly say, that this was one of the most exciting and beautiful experiences of my life, that immediately puts a smile on my face when I think and talk about it! You are an angel to me and I would love to support you to help many more women to step into a much bigger version of themselves!
You took me on a very exciting journey which gave me a lot of confidence and feeling totally supported. I would have never imagined that it would be that great when we worked together. So thank you once again!
Iris
Before I joined Sybil Henry's group style course, Your Profitable Brand Image, my wardrobe and appearance were sending mixed messages.  There was the business person, the mom, the writer, and the gal with fond memories of traveling.  My collection included an assortment of colors, styles, and levels of quality.

As a copywriter, I know how important it is to be consistent in messages and graphics when moving prospects along each step of the marketing path.  However, I had not been showing up consistently in my personal image. I also knew my appearance, while generally well-put-together, didn't help me project confidence.
Sybil showed me how to create a complete wardrobe combining new purchases with the best of what I already had. After several weeks of working with her, I had an individual color palette and signature style based on my background, personality, body shape, age, and core values.  Now I feel beautiful and confident wherever I go. I glance at my once-crammed closet and smile knowing every piece fits my size and personality. Shopping is a business investment.  
Body image woes from years gone by have evaporated. For the first time in many years, I can say I'm happy and comfortable with my body shape.  Any sense of guilt about spending time and money on self-care is gone.

Networking is more natural.  Furthermore, I find myself evaluating decisions differently because of the value I am learning to place on my brand.

I'm still learning, and Sybil has continued to provide insightful and compassionate support. But there's more …

The network of women involved in this class is top notch – they are serious about running and growing profitable businesses.  These ladies invest in themselves. They are the people I want to surround myself with as colleagues and mentors.
If you're ready to move forward in your business and have any inkling that you could benefit by finding your most profitable image … I urge you to work with Sybil immediately!
Judy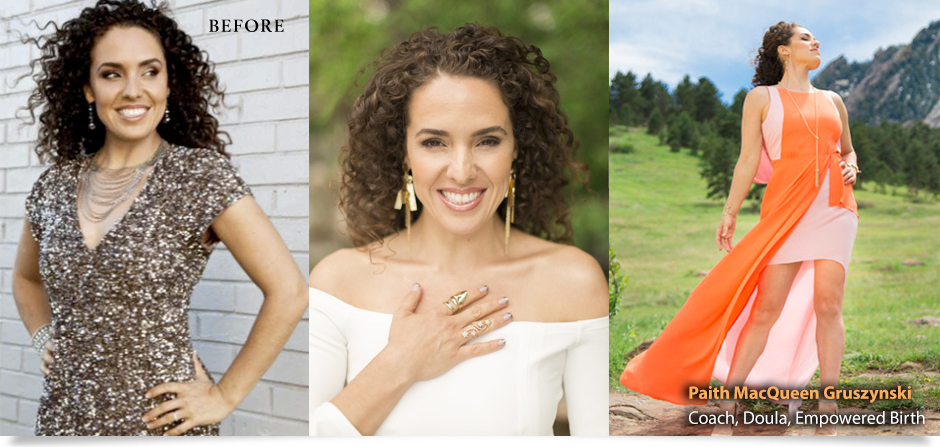 Working with Sybil is a combination of a brand education, hiring a style whisperer, getting an intuitive reading of your soul and experiencing an all-out celebration of the feminine in you!
Before my program with Sybil, I had high hopes for my photoshoot to yield the most true expression of my soul and work on camera, and knew that she would be the advocate and expert to help me get there. She brings such joy and knowledge to the experience that I am at once learning about myself, about style and feeling so empowered as a woman in each session with her.
I worked with Sybil virtually over Skype (for a huge 5 outfit, head-to-toe shop and style edit), and felt that I got the value of my investment x 10,000. She was so dedicated to my result; so genuine and warm and loving and truly able to hold me at the wobbly points.
She was patient with helping me absorb all the knowledge I needed to pull off this shoot beautifully from the brand style perspective. I would work with Sybil every year to keep learning and growing and expanding into my unique brand expression, and I found that it is actually a rite of passage as a woman to do this work with her, and truly amplified my work with women in my own business.
I am so grateful that the Universe brought Sybil into my life and for her graceful, powerful and beautiful example of true feminine expression and embodiment in business and life through style. I highly recommend you invest in some time with her, in fact, she is one of my first referrals for all my clients, as I have found her work truly unleashes a woman's magnetic energy! Thank you, Sybil!
Paith
Down another pound for a total of 10! Today, I saw my waistline! That's only part of the story as I feel fantastic and have found lovely new clothes that fit in my closet.
The biggest surprise that I have had is my relationship about food. There is no stress about eating. It finally feels so healthy and natural. Yesterday I was at a restaurant with my family, I had no desire for any food that did not help me reach my goal and most importantly I felt no stress. I enjoyed heaping glasses of water! I ate it before I left the house.   Some things have definitely changed since I've found my why!
My sweet man saw me and said "oh my look at you!"  The other side to that is, for the first time in many many months I felt a hint of libido!  Tomorrow I am creating my exercise schedule.  Not too crazy, but something that is doable, with the opportunity for a stretch goal.
What is different this time?  I have my Why!  Feeling so empowered. The best part is that I feel connected to a greater purpose. I see my future self coming to life.
One step at a time, with commitments at each step.  Thank you!
Chyna
Sybil has revived the artist in me. I'm now designing things in my head, it's very exciting! The little things that made me feel sexy eluded me. But you brought this back!
Melissa, TX
Sybil is a Style Sorceress. She awoke my inner artist, sire, and my wardrobe. She brilliantly distilled my brand to 'Global Feminine', down to the last exquisite drop of 'artisanal allure'. This was a gift beyond brand and business. No one has ever, so uncannily, woven east-west, heritage-handcrafted, global-suburban to my persona essence.
Brittany, IN
Doing that exercise of going through my brand essence with Sybil was very eye opening for me. I will shop with a MUCH different mindset going forward. I really appreciated Sybil's candor and insight. Removing the clutter and giving me the Brand Style Guide to put it all together and was so important for me.
Jackie, CA
Fantastic! These outfits are gorgeous. Great choices. You make my job so much easier when you style my clients. They are prepared and project more confidence in front of the camera. Their photos are so much better than if they had not worked with you. So grateful!
Tori